Learn about APD by clicking on the following:
APD
Annual Report 2016
APD Policy Manual
Mission Statement
Administration
Chief Tighe O'Meara
​
Deputy Chief Warren Hensman
​
Lieutenant Hector Meletich
​
Sgt. Jim Alderman
Sgt. Theron Hull
Detective Sgt. Art LeCours
​
Sgt. Bob Smith
Sgt. Mike Vanderlip
J
ob Opportunities
New Police Badge
Roll over Numbers for Descriptions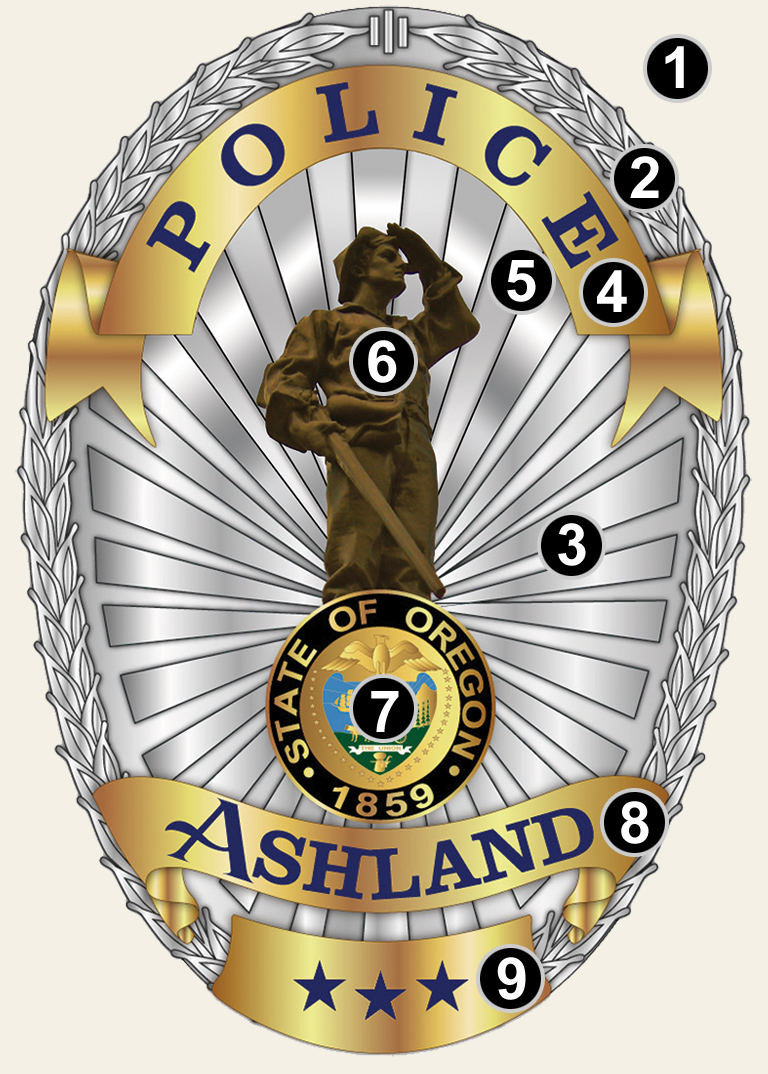 The badge is in the shape of a shield showing our connection to knighthood and our intention to act as guardians of the community
The badge is circled by a laurel wreath, traditionally bestowed upon victors and people in authority
The background shows the rays of the setting sun, indicating that we are a west coast agency
The top panel declares that we are a police department
The next panel denotes a rank. It is important to note that all positions, regardless of what they are, are underneath the word "POLICE." That is, we are all subservient to the unit, we are all part of the team, no one above the team
Iron Mike, the statue from the city plaza is the center piece. Iron Mike represents the state's pioneering nature, as well as the department's. APD strives to be a department that advances the profession of policing, pioneering the way for others to follow.
The state seal indicates that we are part of the great State of Oregon
The Stylized Ashland indicates that we are Ashland officers
Lastly, the two stars represent our two fallen officers, Samuel Prescott and Victor Knott, both of whom were killed in the line of duty serving as Ashland officers in 1931